Goods Checker
custom solution for merchandising automation with AI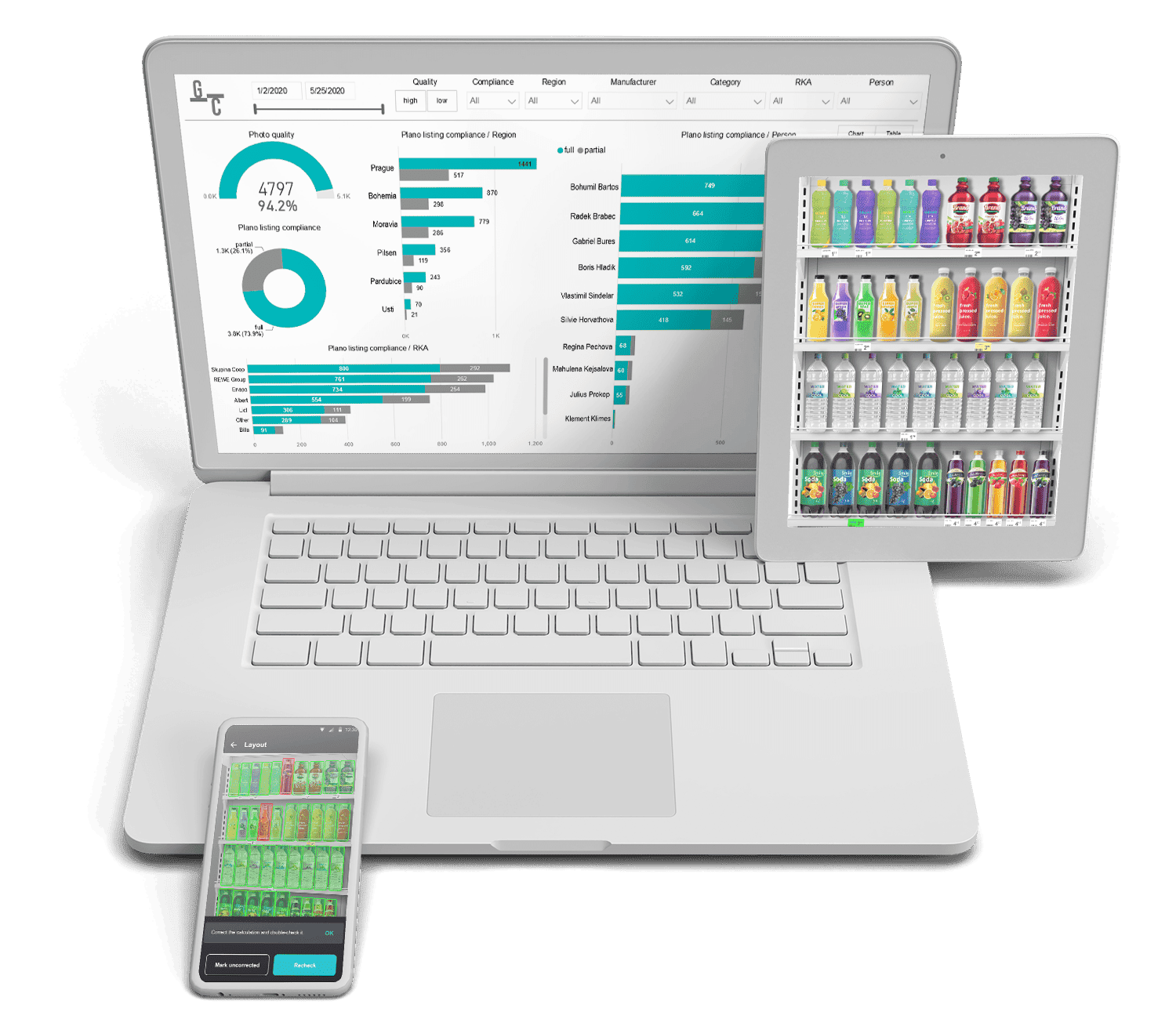 Goods Checker is a SaaS solution for FMCG manufacturers and distributors that automates all stages of merchandising
Operations with planograms
Product recognition and analytics
Layout monitoring in the store
Learn more about Goods Checker
Benefits of Goods Checker
95% and above recognition accuracy
up to 30 seconds* photo processing time
*Internet connection speed not considered
100 SKUs planogram in less than 1 minute
Various delivery and integration options
Customized, integrated solution for the tasks and business processes of the customer
Flexible pricing
Personalized cost calculation.
You don't pay for features that you don't use
Analytics
Instant detailed analytics with breakdown by stores, merchandisers, SKUs and product categories
Step-by-step deployment and development of the solution
Use individual Goods Checker modules immediately and add the required functionality later
Results with Goods Checker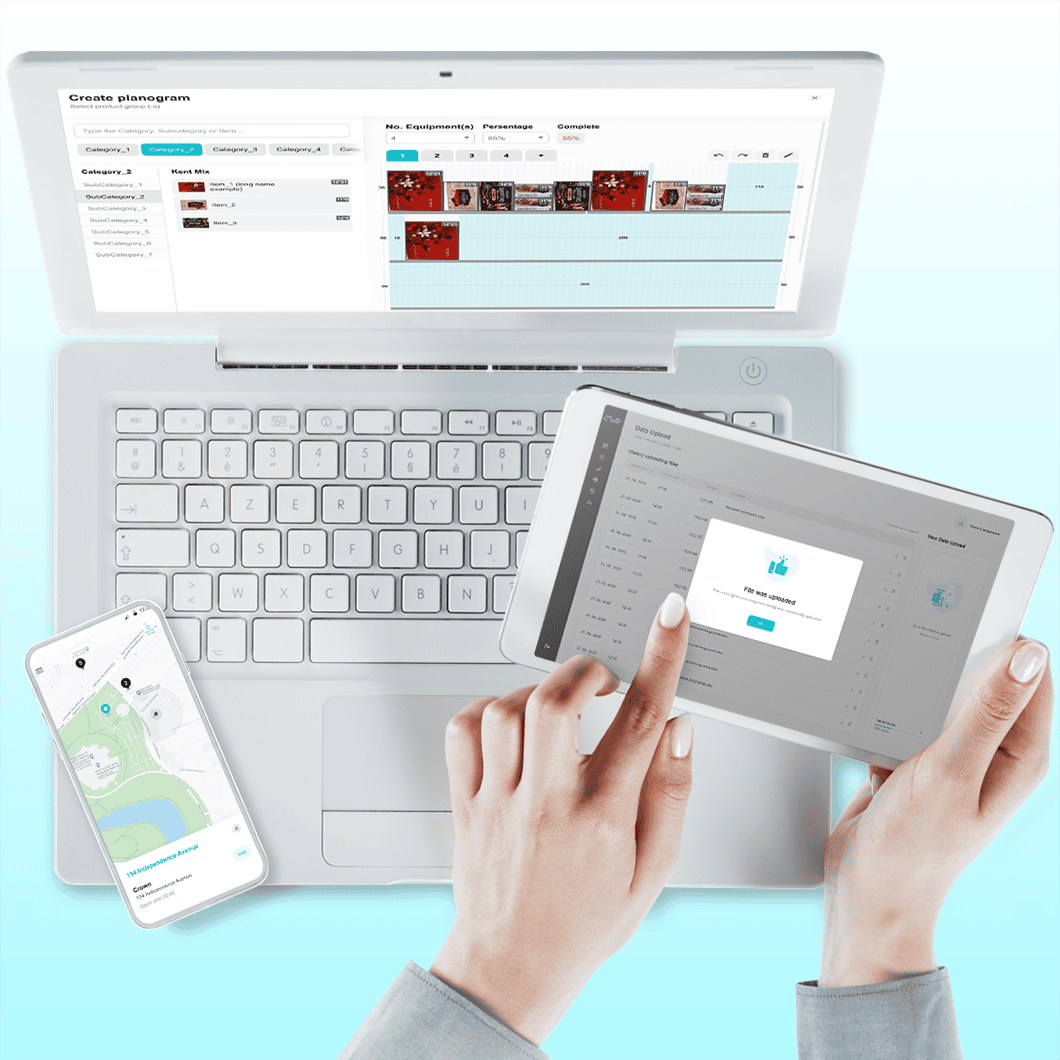 Managers create planograms faster and check their adherence by employees
Higher percentage of layout compliance with planograms
Improved out-of-stock and out-of-shelf identification rate
Merchandisers conduct an audit of the outlet faster and more efficiently
100% of photos from merchandisers' visits to retail outlets are processed
Corporate system receives accurate data in real time
Enhanced shelf monitoring across all stores
Merchandising becomes transparent for all participants
Goods Checker is an ecosystem designed for automation of merchandising processes. It uses computer vision to analyze products on store shelves and help businesses make decisions based on timely, accurate and complete data.
How is Goods Checker different from other similar solutions?
Goods Checker uses neural networks and computer vision to analyze photos in real time and compare realogram against planogram. To recognize a new product, you need only a high-quality image, which allows analyzing it from the day it goes on sale.
What modules does the system include?
Plano Creator module: through the use of drag-and-drop function, it allows users to quickly create, copy and edit planograms.
Shelf Eye module: recognizes and classifies goods in store equipment.
Check & Go app: allows field employees to complete manager assignments and check merchandise display.
Analytics module: provides a complete picture of the business in real time by calculating various KPIs that can be customized according to requirements.
Can I use individual modules without buying all of them?
Since Goods Checker is delivered according to the SaaS model and does not require the customer to install special hardware and server software, for each project it is possible to determine a set of functions and modules required to address the customer's business challenges.
Which companies need this solution?
Goods Checker is designed for companies operating in the FMCG segment: manufacturers, distributors and retailers.
Which products are good for recognition and which are not?
Products in solid packaging are best suited for recognition, which occupy a certain shelf space and show the entire label. For example, plastic bottles with drinks or candy cartons.
How is data security ensured?
The interaction between the client and the server takes place only via secure protocols and requires mandatory authorization. Also, users can do without paper documentation, which minimizes the possibility of data loss. All information is stored on secure cloud resources.
What is required from a company that has decided to use Goods Checker?
The solution does not require installation of hardware and software on the customer's facilities. All that is needed is materials for training neural networks: several hundred photos of goods that Goods Checker will process.
Can Goods Checker process goods without packaging (fruits, vegetables, fish, etc.)?
Yes, it can determine their presence or absence on the shelf.
What are the possibilities of Goods Checker when analyzing goods not on a shelf, but on a pallet or at secondary placement?
It is possible to recognize the presence of goods on a pallet or secondary display, but it all depends on the goods packaging
Does Goods Checker have a price recognition feature?
Yes, Goods Checker recognizes prices and correlates them with the closest products on the shelf
Does Goods Checker provide fraud protection?
Yes, Goods Checker recognizes prices and correlates them with the closest products on the shelf
What else can Goods Checker recognize?
POSM, and any promotional and informational materials