In recent years, every person has encountered computer vision (CV). For example, text translation using a smartphone camera and Google services.
Once technology has penetrated everyday life, be sure that business is in it. A lot has been written about CV in FMCG and retail: what it is, its benefits, case studies, etc. Companies in the FMCG industry are vigorously testing and introducing this technology to enhance the quality and accuracy of business processes and improve customer experience. But not all stages of a company's development require deployment of this technology.
In today's article we'll explore the drivers and challenges in adoption of computer vision, when FMCG companies should consider IT solutions powered by it and for what tasks it can be used.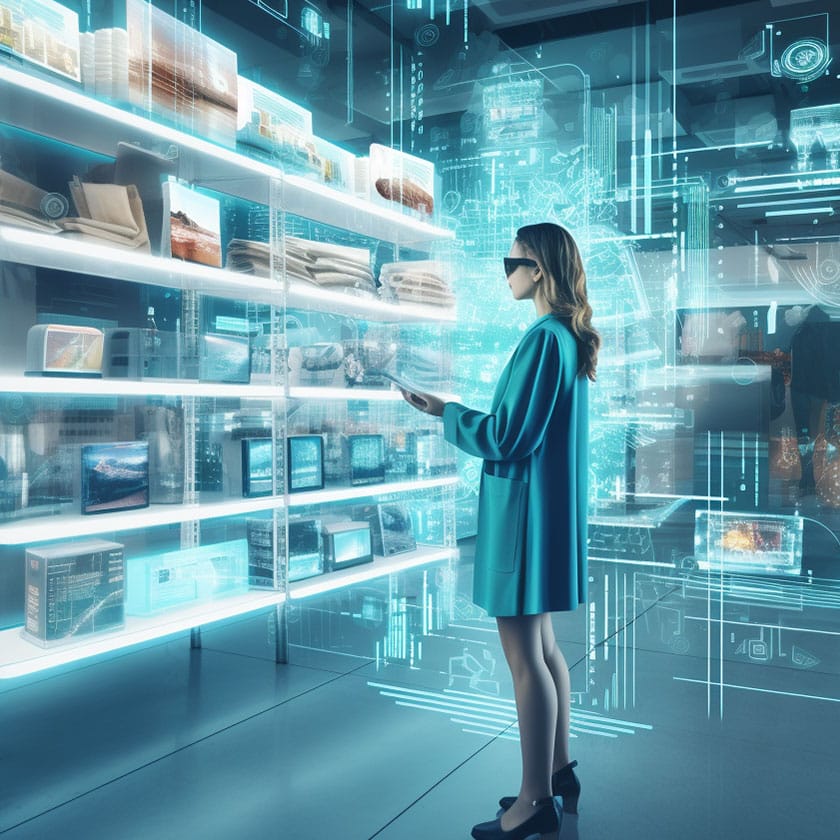 Since the COVID-19 pandemic, the retail industry has changed. Buyers have become more accustomed to making purchases online. But at the same time, they will be happy to go to an offline store. Experts believe that online and offline retail will be even more effective if they begin to complement each other. After all, buyers often go to a store to choose and examine the product they need, but purchase it online. Market players are well aware of this feature, so in the future this type of integration will prevail, when offline stores will play the role of showcases with goods, and online stores will act as actual platforms for selling and purchasing.
Online transition of shopping and integration with offline forced companies to update their IT infrastructure. This became a necessity, as managers understood that without upgrade they would not be able to compete in the market and "survive" in challenging times.
Consequently, it became easier for management to make changes. This was influenced by many factors: successful actual experience in introducing new solutions or updating existing ones, the experience of competitors, the availability of innovations; the emergence of a budget and the required experts, and many others.
This means companies need to invest even more in improving the shopping experience to attract more customers to their stores.
Computer vision is one of the ways to improve company processes and offer customers new value propositions.
However, there are also barriers to the spread of this technology. They can be divided into three categories: managerial, technical and economic.
When companies automate their processes, they sometimes start with complex technologies such as artificial intelligence. But without understanding how computer vision works and how it can improve business processes, it is difficult to implement a project. 
Technical constraints are associated with the challenges that arise when integrating computer vision into the IT infrastructure. The capacity of existing IT systems of FMCG companies does not always cope with new technologies, and this may require the need to update the infrastructure.
Economic barriers are the initial investment. Previously, deployment of computer vision required large expenditures, such as purchasing hardware, software development, employee training, and support. Today the situation has changed. Many solutions are offered as a SaaS model. This means that the FMCG company pays small amounts monthly for a subscription, like for Spotify or Netflix, and can cancel the service at any time. In addition, IT companies offer pilot projects so that the customer can test the solution, check its efficiency and understand whether it's good or not. But despite more flexible pricing policies, the common stereotype about high cost of computer vision still exists.
In addition, an FMCG company must have internal technical expertise, that is, technicians and engineers who are able to develop, train and support computer vision models. In most cases, it is not practical to keep such specialists on staff.
Three Conditions for Computer Vision in an FMCG Company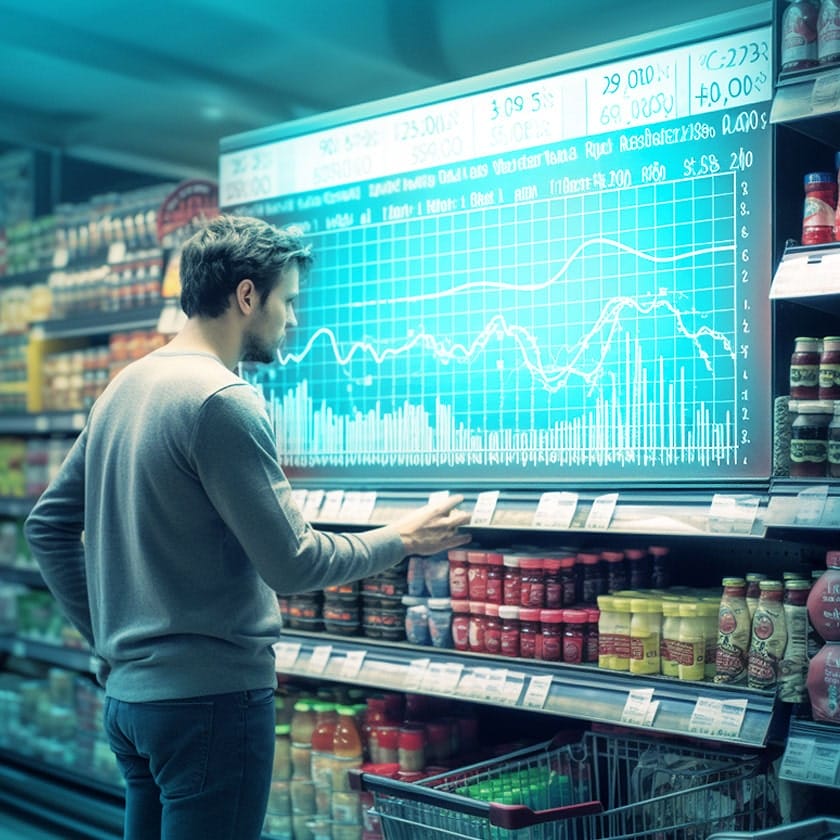 So, we have looked at the factors that drive and hinder the adoption of computer vision. Now we'll talk about the level of automation an FMCG company should have.
Three conditions for computer vision in an FMCG company:
Basic process automation. Companies should use solutions that automate basic processes, for example, use CRM systems. Basic automation will help the company see the effect of IT solutions, more objectively evaluate the return on investment, and also identify weaknesses in business processes. This means that managers will look for solutions that can "fix" these weaknesses. Computer vision can be implemented just in those areas where it is most useful, for example, in analyzing data about products on shelves, inventory management and others.
Willingness for change and investment. An important aspect when introducing innovative solutions is to be prepared for change. Transforming business processes, training employees to use new tools, introducing new methods — all this requires time and investment.
    Available data. Desirable, but not always mandatory. Computer vision requires data. This means that an FMCG company must collect and store information in any available source, be it its own servers or Google Drive. But even in the absence of information, IT companies can create synthetic data sets to train neural networks. This is exactly what NVIDIA and Google do, for example.
3 Examples of Computer Vision Use by FMCG Companies
Computer vision is already being extensively tested and adopted by FMCG manufacturers and distributors around the world. Let's look at three real-world examples of what tasks companies use computer vision for and what results they got.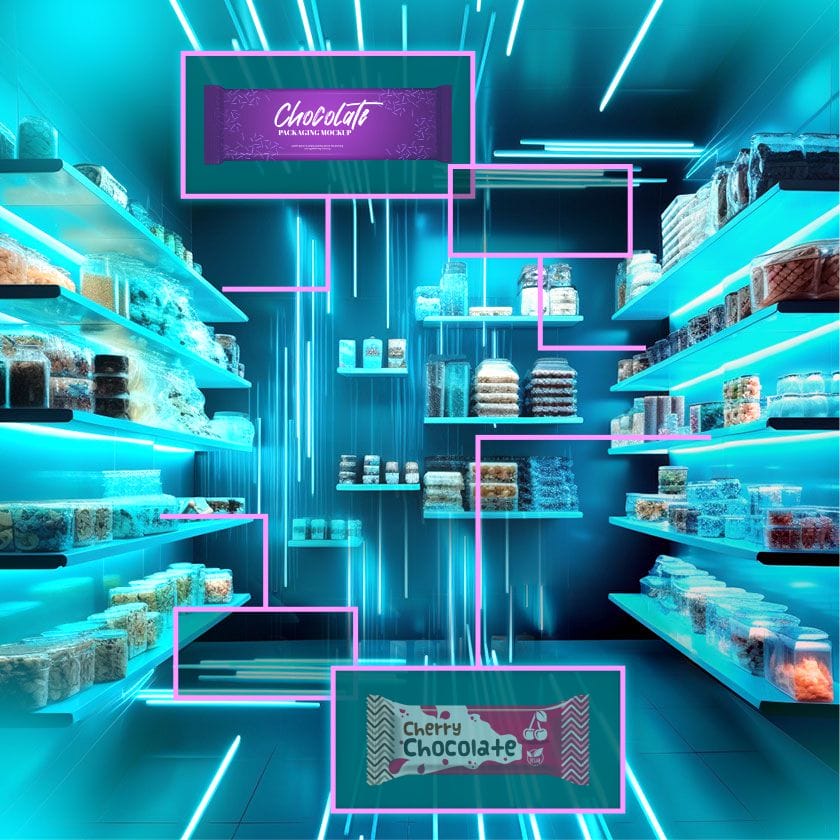 Nestle Monitors Stock on Shelves and Minimizes Out-of-Stock
Nestle has introduced Nestle's Smart Shelves. In some stores, sensors and cameras are installed on shelves, the video from which is processed by computer vision. Such a system helps track inventory levels and analyzes customer behavior near shelves. When the quantity of goods on a shelf is below a certain level, the system automatically sends a notification to the store so that its employees can re-order the required quantity of goods or bring them from the warehouse to the shelf. This approach helps reduce the number of out-of-stock cases and improve customer satisfaction and, accordingly, sales.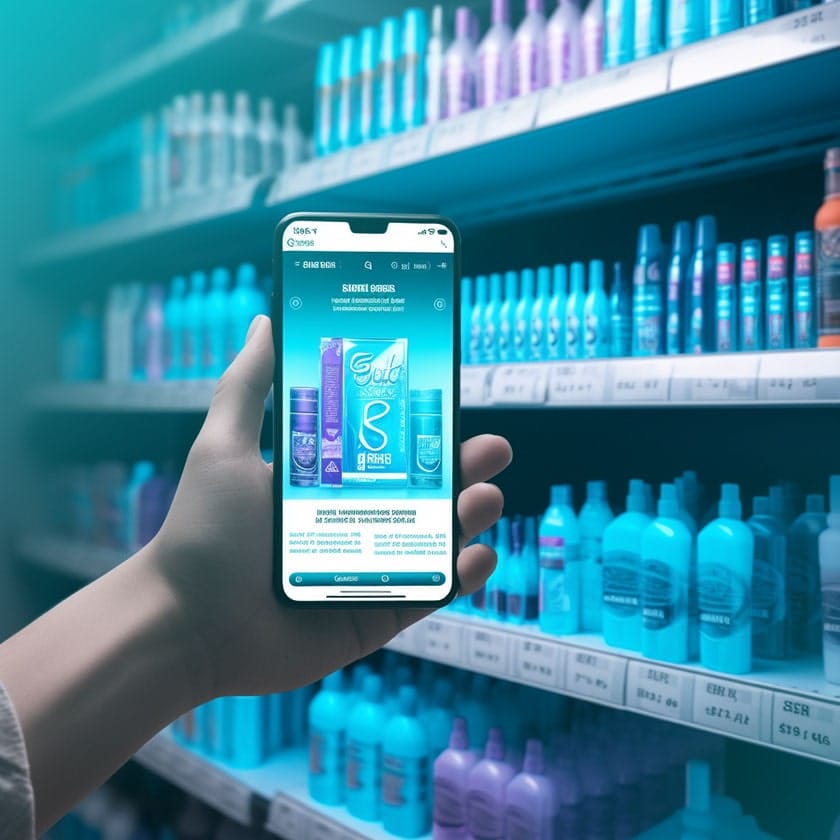 Merchandising Agency Made Audits of Retail Outlets Faster
A merchandising agency in Eastern Europe has automated the process of checking the display of goods on store shelves using computer vision. For these purposes, the agency used Goods Checker, a cloud-based solution for automating merchandising processes: creating planograms, checking displays, and generating analytics. The service also analyzes products, prices and promotional materials on the shelf.
The merchandiser takes a photo of the shelf with Goods Checker, and the app shows whether the display matches the planogram. After processing the photo, the labeled image is immediately displayed in the merchandiser's application, and its data is added to analytics, which is available to managers via a web browser.
According to the customer, as a result of using Goods Checker, point-of-sale audit time was reduced by 50% and reporting time was reduced by 70%. Thanks to this saved time, the employee will be able to additionally visit several more retail outlets, and the manager will be able to monitor the situation more quickly. In addition, the use of IT tools minimizes the human error. This means that agency employees provide their clients with accurate, complete and up-to-date information on time. Clients, in turn, can see the real-life picture on store shelves; quickly respond to changes in the situation, make decisions based on real-time data and boost sales of their goods.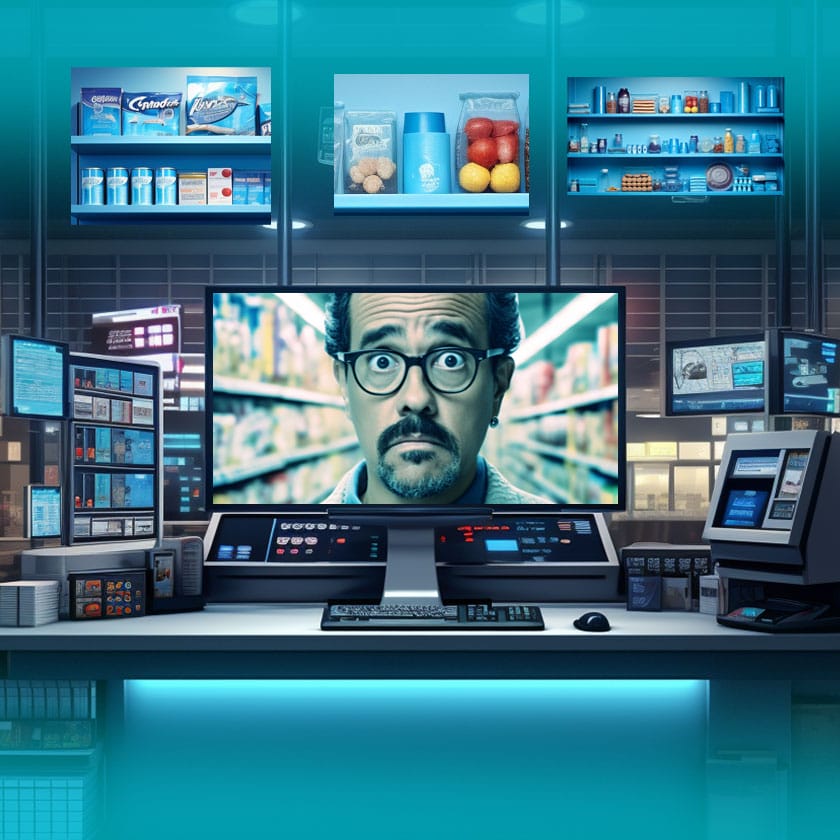 Predicting Customer Behavior and Reducing Customer Churn
Major American retailer Walmart uses computer vision to predict customer behavior. Stores have cameras that scan customers' emotions. This helps to better understand which products customers like and which they don't, and to correlate their behavior with purchases. By understanding behavioral patterns, Walmart can predict and prevent customer churn.
4 Steps to Adopt Computer Vision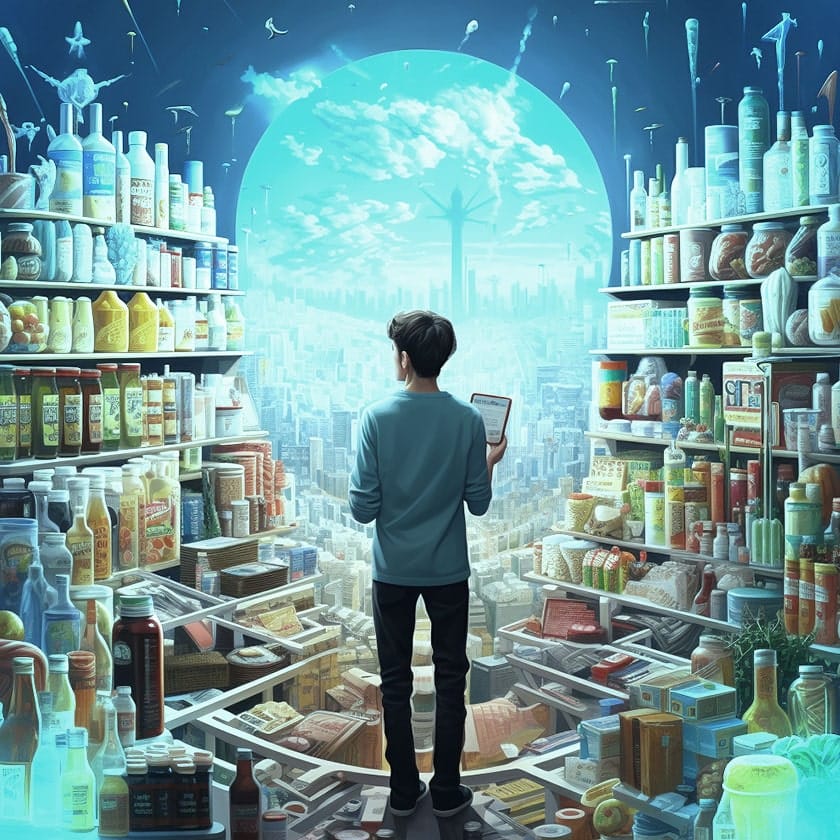 To understand whether it is difficult or not to introduce computer vision in FMCG companies, let's look at the stages of a typical project. 
A typical computer vision project consists of four main stages:
    Data preparation
    Selection of architecture and model training
    Evaluation and fine-tuning of the model
    Commercial operation
At the first stage, it is necessary to prepare three sets of data: for training, validation and testing. Using these datasets, we train the neural network and check its quality. "Live" photographs are not perfect — they have highlights, glare and other defects. In order for algorithms to recognize such images, it is also necessary to add various types of distortions to the datasets.
After the data is prepared, we select the model architecture and train the neural network. Training takes place in several stages. Each stage consists of two parts: training and testing. The model identifies patterns and consistently tests them during the validation process, which allows the algorithms to more accurately recognize objects with each new iteration.
After training, the neural network is launched on the test dataset. If the algorithms label the photo incorrectly, we correct it and repeat the process. Adjustments include changes to the training dataset, model parameters, or model architecture. 
Once the neural network consistently labels photos with accuracy above 95%, it can be put into commercial use. At this stage, the application with the model is integrated into the business processes of the FMCG company. For example, Goods Checker can run as a standalone application or be integrated into existing IT applications using an API.
We talked more about the project stages in "Computer Vision in FMCG and its Deployment in 3 Weeks"
It is important to introduce innovations with an understanding of their objectives and desired results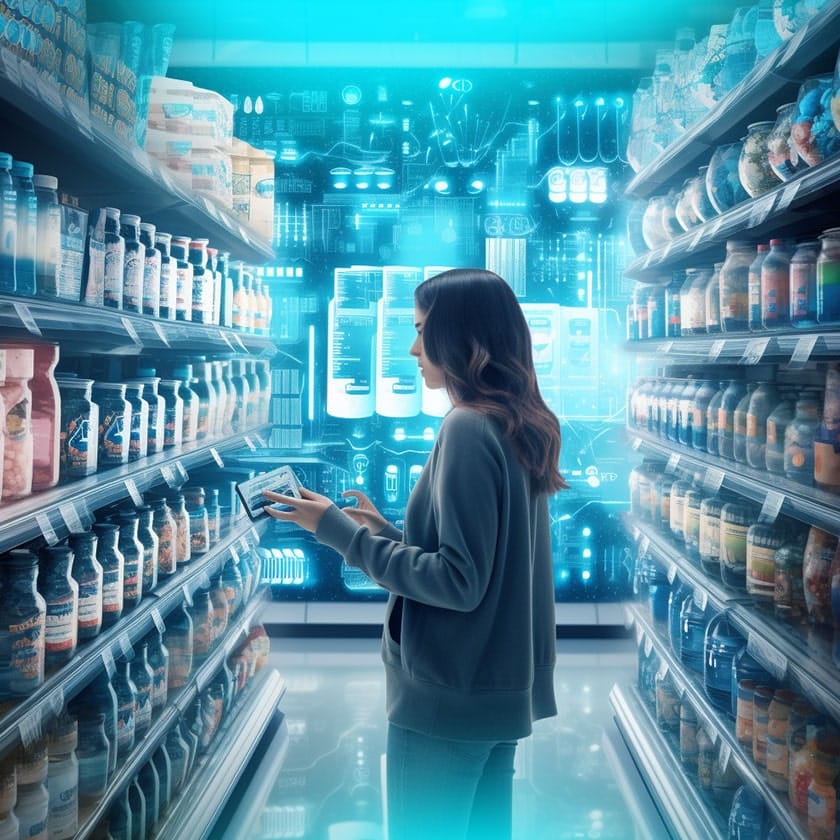 New technologies should be tested. They will help improve the efficiency of processes, identify bottlenecks and also offer clients or customers new interesting features that are only available thanks to technology.
However, any new product requires investment, so it is important to understand why to implement an IT solution, what tasks it will address and what benefits it will bring to your company. Such an analysis will help you set the right expectations from the solution and understand its value. Our team is ready to discuss your goals for Goods Checker and answer your questions. Leave a message and we will contact you within 24 hours.