You can represent your storefront like a book. Managing and organizing can be incredibly easy, and a planogram helps manufacturers represent their stores graphically on a screen. It accounts for more benefits, along with remodeling your store organization in a graphical image. This article will teach you about planograms and their significance within FMCG companies. Some of the most successful companies use planograms as an essential tool for their success.
A planogram in retail store is a tool that companies use for visual merchandising. Having a visual representation of how a store product or service is displayed can be essential. The primary purpose of a planogram in merchandising  is to define and help the quantity or location of the product you place in your store.
By clearly representing your goods, you can better optimize the quality of your business and increase profit margins. Planograms produce a highly accurate graphical representation, allowing companies to plan and strategize retail strategies.
Why do FMCG Companies and Distributors Use Planograms?
FMCG companies will use a planogram to ensure maximum success. Much of FMCG companies' and distributors' success relies on how to use a planogram, how well they can organize their goods inside stores. Planning out a space efficiently will benefit retailers and be advantageous to distributors. For instance, you cannot simply align products randomly on the shelves.
Instead, you need to place the most profitable item in the best positions for better revenue generation. Planogram software can also be integral in promoting a particular product. A planogram tool helps strategically place items around the shelves to enhance visibility.  
There are different types of planograms, each varying in placement and purpose.
Placement Based on Market Share
This is when you use a planogram tool to place the best-selling products in the best locations around the store.
Placement According to Margin
The retailer has different profit margins on the product they sell at their stores. In this placement, a retailer will give better positions to products that offer him the highest profits. This type of planogram is common in small retailers.
Placement According to Commercial Status
In this placement, bigger brands get more visibility at stores.
Block Placement
In this placement method, store planners will align similar products in the best locations without considering the brand value or profit margins.
Horizontal Product Placement
This product placement requires you to place each item side-by-side, so customers can view them.
Vertical Product Placement
In this product placement, different brand products take place on different shelves.
What Should Be the Planogram?
Your planogram should be a reflection of the shelf. With a planogram, you are essentially trying to curate the customer's attention and encourage them to buy the products you want to sell. Below is an example of a basic planogram layout of a store.
Besides creating a shelf layout, you must also figure out merchandising. This can require companies to place products on the shelves, even the average customer height, based on many factors. Laying out things based on dimensions and other factors requires a planogram tool and planning.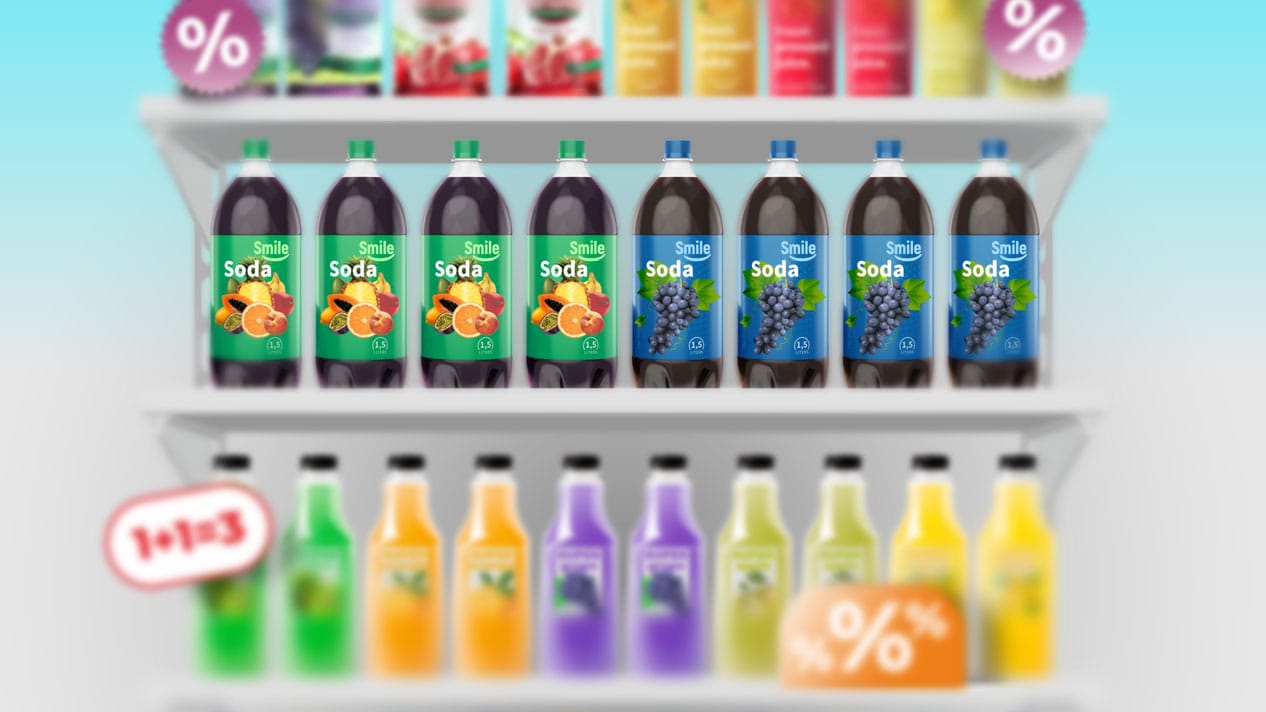 What Gives an Effective Planogram to Businesses?
An effective planogram fulfils a retail store's goals and purpose. The major goal and purpose of a planogram are to maximize incrementally. A store layout is effective if it encourages customers to buy out of impulse.
A standard example of successful merchandise on shelves would include adding gourmet and low-selling brands on the top shelf while placing the best-selling brands on the second shelf so they are visible and in line with the customer's sight.
How to Create the Planogram Step-By-Step?
Knowing to create an effective planogram is essential. You will have to follow the steps that are as follows:
Identify Your Retail Store's Purpose
First, ensure what you want to achieve from your shelf. Do you want the highest profit margins? Do you want to represent the best brands? Or do you want to offer the best discounts?
Select a Merchandising Technique
Once you've determined your goal, pick a planogram technique that caters to your goals. To get inspired, you can also walk into stores, look at categories, view the height of shelves, and find out about the packaging sizes. You can then take notes and try to implement a similar design for your store.
Implement Planogram Strategy
Implementation will require you to pick the best merchandising tool and create a graphical layout of your store. Once you remodel your product placements on display, use that design as a reference for your product placement.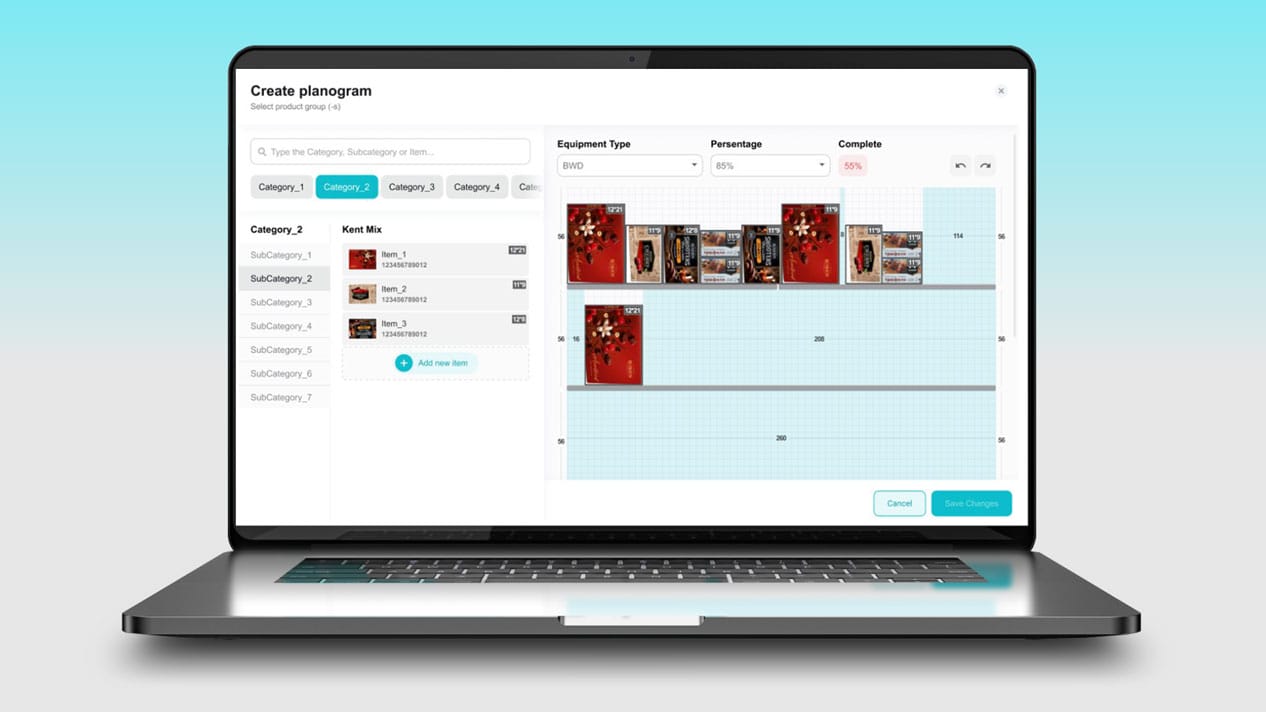 Useful Software for Planogram
There are ways to create a planogram without using dedicated software. For instance, you can manually draw your store's shelf planning on paper. However, this requires you to have special skills and training. It is also a very time-consuming method. FMCG manufacturers overcome manual planning by using software such Microsoft Excel, and Power Point.
But these tools also require manual labor when creating planograms and they are not a true automated solution. It is also difficult to add product images on them, and are inconvenient when using on-site. For this reason, a dedicated retail planogram software can be instrumental. They can help provide a true picture of the layout quickly and efficiently.
Fortunately, technology has made visual merchandising an easy task. Plano Creator is a retail planogram software that helps you construct an effective layout plan in the least amount of time. It has an easy interface and built-in analytics that ensure success you are creating a layout plan.
A planogram is the map of the store, showing exactly where each product is placed. But this placement process is strategic. A planogram helps retail buyers and grocery stores make a plan to maximize sales. 
The ultimate goal of a planogram is to encourage consumers to impulsively add items to their shopping cart while strolling across aisles. If you want to implement effective visual merchandising in your store, use PlanoCreator for the best results.
A planogram in merchandising refers to the product placement on the shelves and strategically implementing which arrangement will be the most effective. Understanding merchandising techniques and finding out how to place your products can maximize your sales in retail.
Why do FMCG companies and distributors use planograms?
A planogram is used for many purposes by FMCG companies. Big companies use a planogram to design their store's layout in ways that serve their business goal. Creating a planogram helps companies and distributors push certain products to consumers. This strategy helps them maximize their profit margins and meet business goals.
What are the Key Factors of Visual Merchandising Design?
Make sure that you are competing on the shelf of stores. The packaging, the product's exterior display, and all of the promotional placement pieces determine the promotion of a certain product.
What influences planograms?
Color is a major influence on merchandising techniques. The contrast of color to make a product stand out can be instrumental for companies. People's eyes are naturally drawn toward color contrast, so the color is a very important influence for planograms.