Planogram takes on enormous importance in merchandising. It determines whether the buyer will notice a particular product among all the goods on the shelf. Therefore, companies take the creation and updating of planograms seriously.
How it Used to Be: Microsoft Excel or Microsoft PowerPoint
Typically, planograms are created in Microsoft Excel or Microsoft PowerPoint. These software programs are almost always available on computers, and everyone knows how to deal with them. Difficulties arise when planograms become more complex and there are a lot of them. Creating, updating and adding product images becomes time consuming, the process is slow. During the check at the outlet, the merchandiser can easily make a mistake and miss the discrepancy between the layout and the planogram.
To address this issue, we have developed the Plano Creator module for Goods Checker.
Mismatch Between Display and Planogram: Effects on Business
At a casual glance, incorrect layout does not seem to be critical for sales. But on the other hand, this is an essential part of the promotion and sales strategy. Display is the presentation of a product on a shelf. It helps to call the buyer's attention to the desired product and promotes impulse purchases. Therefore, its importance should not be underestimated. Let's look at the five main consequences of incorrect layout.
  Drop in sales. Where the SKUs are placed incorrectly on the shelf not in compliance with the planogram, the buyer may not find the product he/she needs, which will result in disappointing sales.
  Customer churn. This follows from the previous item. If a buyer repeatedly cannot find his/her favorite product in a store, he/she switches to a competitor's product.
  Errors in reporting. Managers calculate sales and stock based on the planogram, and errors in the placement of goods can result in unreliable data and its wrong analysis, and ultimately in incorrect management decisions.
  Penalties and losses. There are cases where non-compliance with the planogram triggers legal problems or even penal fines. 
  Infringement of brand image. Incorrect product display can damage a brand's image. 
IT solutions like Goods Checker help avoid these problems. 
Our Offer: Use Plano Creator
Plano Creator is a constructor module designed for creating electronic planograms. Using this module, a manager can create a planogram with several hundred SKUs with photos in a few minutes. This planogram will provide a realistic presentation of ​​the goods and commercial equipment.
Previously, Plano Creator had only one planogram option — the grid planogram. It is suitable for products of the same size, such as chocolates or tobacco products. To generate a planogram, you need to select an entire brand, sub-brand and individual SKU.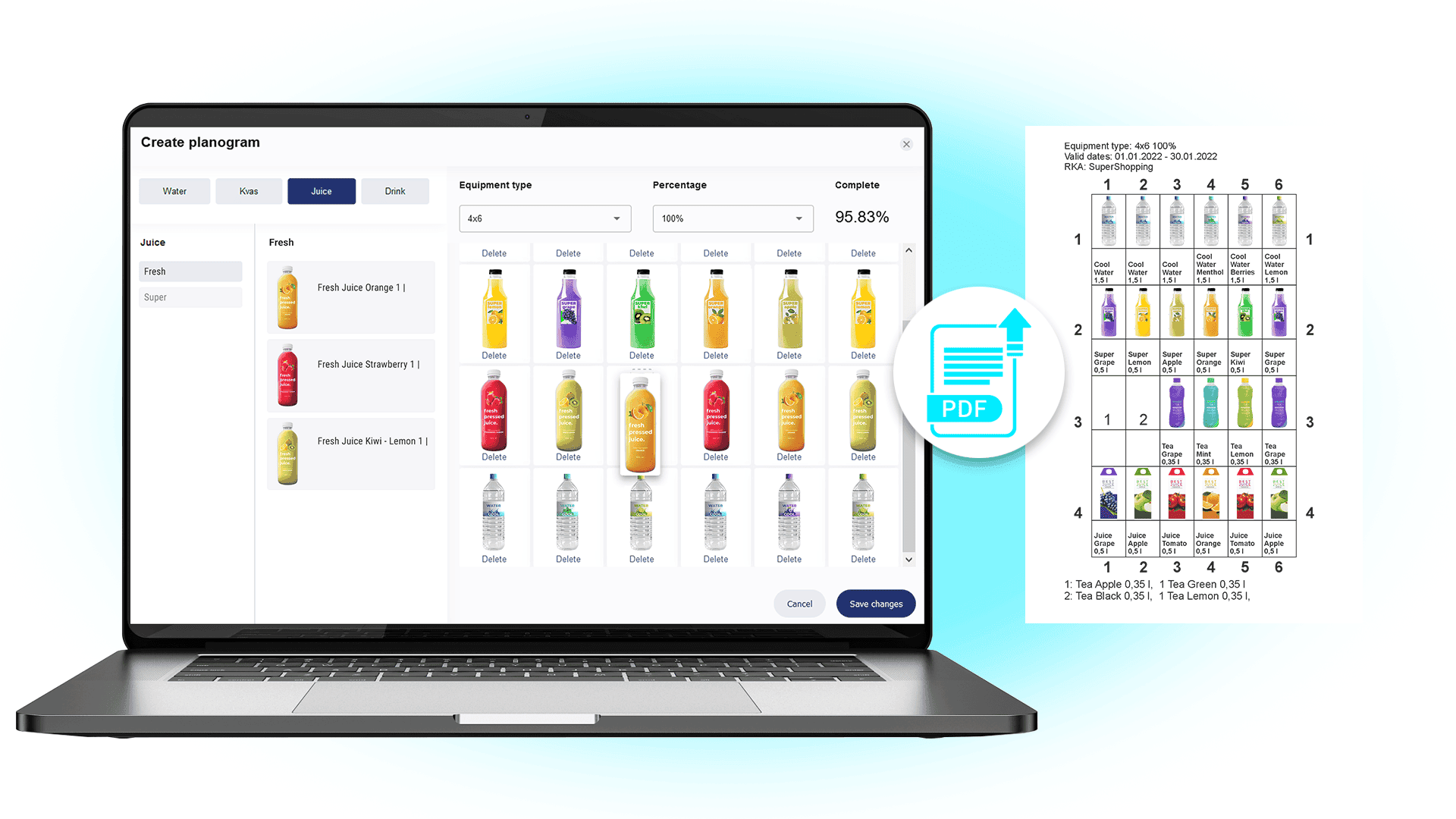 The planogram shows the number of SKUs that need to be put on one shelf. You can display not only the final SKUs, but also the entire sub-brand. This is useful when a product has not arrived at the store. In this case, the merchandiser sees that this product may be put in this place.
In our feedback from customers, we realized that the grid structure is not multifunctional. It is suitable for a very limited range of products. Most often, manufacturers and distributors have a wide range of products, which in 99% of cases have different sizes. And the grid structure of the planogram is no longer suitable here.
Therefore, we developed a shelf structure. The shelf structure allows customizing the equipment dimensions, the number of shelves, their sizes, etc.
When preparing a planogram, the dimensions of each SKU are immediately visible, and after dragging it onto the equipment, the space remaining to the end of the shelf is calculated. This helps to monitor the fill rate of the rack.
It is possible to choose the date for which the planogram is relevant. This will help not to get confused and avoid questions like: "Is this an old planogram or a new one?"
The shelf structure helps to create individual planograms, for example, for each retail chain. After all, demand varies greatly depending on the location, which means that the presentation of goods on the shelves must be adjusted to demand. Also, this approach will help to better manage the distribution of goods across retail chains.
Benefits of Plano Creator
With Plano Creator, a manager needs less time creating planograms and can spend it on analytics or other more important tasks. In turn, a merchandiser will make no mistake when checking the display at the outlet. This implies that the risk of errors in reports is reduced.
Plano Creator is designed to scale your business. It allows processing a large number of stores and types of equipment, for example, regular racks or cabinets for tobacco products.
With Plano Creator, planograms will always be prepared correctly. That is, the program checks whether everything is placed correctly: whether there are SKUs that are placed "in the air", whether products intersect with equipment or with each other, whether a small product is placed under a large one, etc.
Plano Creator Helps to Create and Update Planograms Faster
Electronic planograms in general help managers and executives to receive up-to-date and aggregated data from outlets in due time. Due to this, executives can set reasonable KPIs for merchandisers and fairly evaluate employees, and managers can increase the percentage of layout compliance with planograms and track the reasons why planograms are not observed: out of stock, broken equipment, etc.