The Goods Checker team gathered in Poland at the end of March to participate in Poland & CEE Retail Summit 2023. This is one of the largest retail-themed events in Central and Eastern Europe, which brought together more than 1800 participants and 180 speakers.
The Poland & CEE Retail Summit 2023 drew together not only retail professionals, but also key international FMCG manufacturers to discuss topical issues and challenges. Speakers and participants discussed growth strategies, supply chains, e-commerce, introduction of IT solutions, marketing, finance and other topics that are essential for commerce.
The Goods Checker team attended the conference as partners. The team members talked with the conference participants about merchandising automation: the pros and cons, and challenges faced by companies. They also demonstrated the functionality of Goods Checker solution.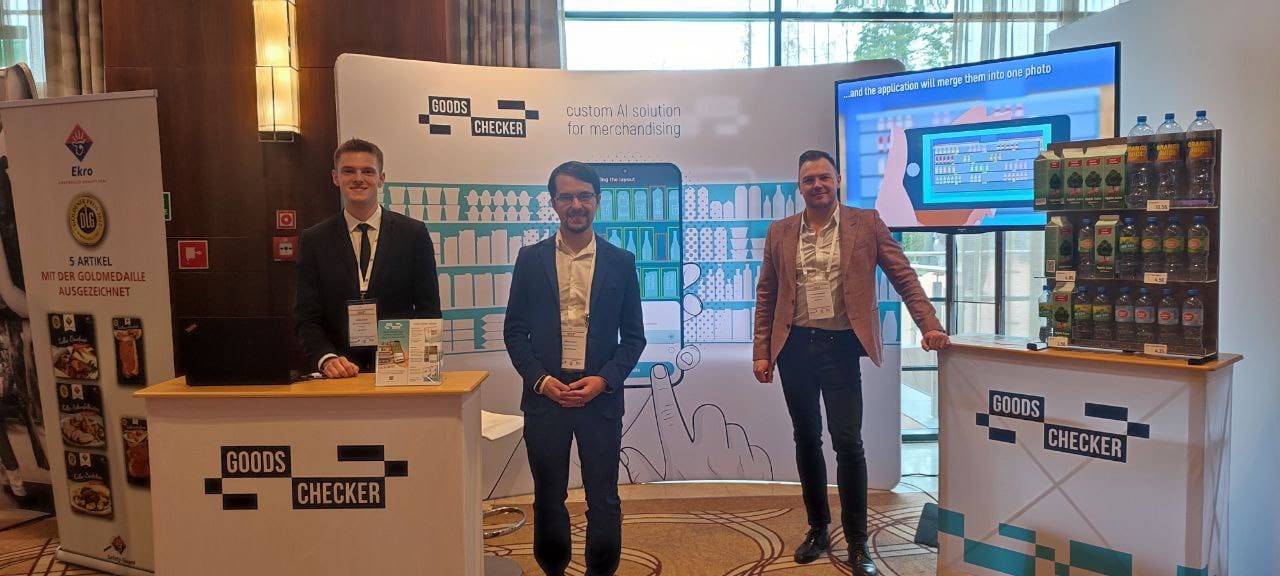 Our primary objective at the conference was to meet potential customers and partners. During the two days of the summit, we were able to communicate with representatives of more than 30 companies that are interested in such solutions or are already successfully using them. All negotiations were arranged by our team directly at the summit, and I am pleased that we managed to hold many productive meetings.

It should be noted that even those companies that already use similar applications showed interest in our solution. Of greatest interest was the SKU and shelf price recognition module, along with training of recognition model with just one render.

Many of those who have managed similar solutions were favorably impressed: Goods Checker works great with small SKUs and bottles, and successfully recognizes goods in refrigerated cabinets.
We took part in the summit because we see a lot of potential in the Polish market. The event was attended by heads of FMCG companies which are our prospective customers.

Polish market has been rapidly developing recently. There are already companies that have been using such solutions for more than a year. Our Goods Checker will be useful for manufacturers and suppliers of FMCG goods, including merchandising agencies that provide their services to such manufacturers.

The list of participants included the companies we would like to talk to in order to demonstrate Goods Checker. The Summit is an excellent opportunity to achieve this goal. The event was productive: we held many meetings and understood that our product was of interest.
The conference attendees were also interested in the technical features of our solution. For example, how GDPR is observed, whether it is possible to use a third-party cloud service, how much data is needed for training, whether the service can recognize small goods. These questions suggest that companies take an interest in using such solutions and they are studying the special aspects of implementation.

I am satisfied with our participation in the event: we managed to get insights from companies that use such solutions. We were able to better understand our competitive advantages and further product development paths. Communication with representatives of Polish companies gave a picture of what is important and relevant specifically for the local market.
The event showed that merchandising automation is a hot topic for retailers and FMCG companies. Recognition of goods, analysis of price tags, preparation of planograms and comparison against the layout – all these activities can be automated followed by optimization of business processes.
Implementing automation is easier than you think: you don't need to spend months on it, since a pilot project can be completed in 2-3 weeks. After all, 1 render is enough to train neural networks.